The prologue last Sunday was fabulous as I watched it with
TBV
, Mrs. TBV and
spouse
in Palo Alto. The riders came within inches of
our cameras
as they turned the second corner at Cowper and University. The company was excellent and the weather was perfect.
The final destination of the 2008 Tour of California ended with 6 laps around the Rose Bowl in Pasadena today. I splurged and purchased VIP tickets with access to the hospitality tents near the finish line. The tents came in handy as the overcast skies did rain down enough for the umbrellas to emerge. The hors d'oeuvre were tasty. Bits of conversation were fun. Seats were excellent.
The rain started just as the riders started the circuit portion of the race. Here is an early lap.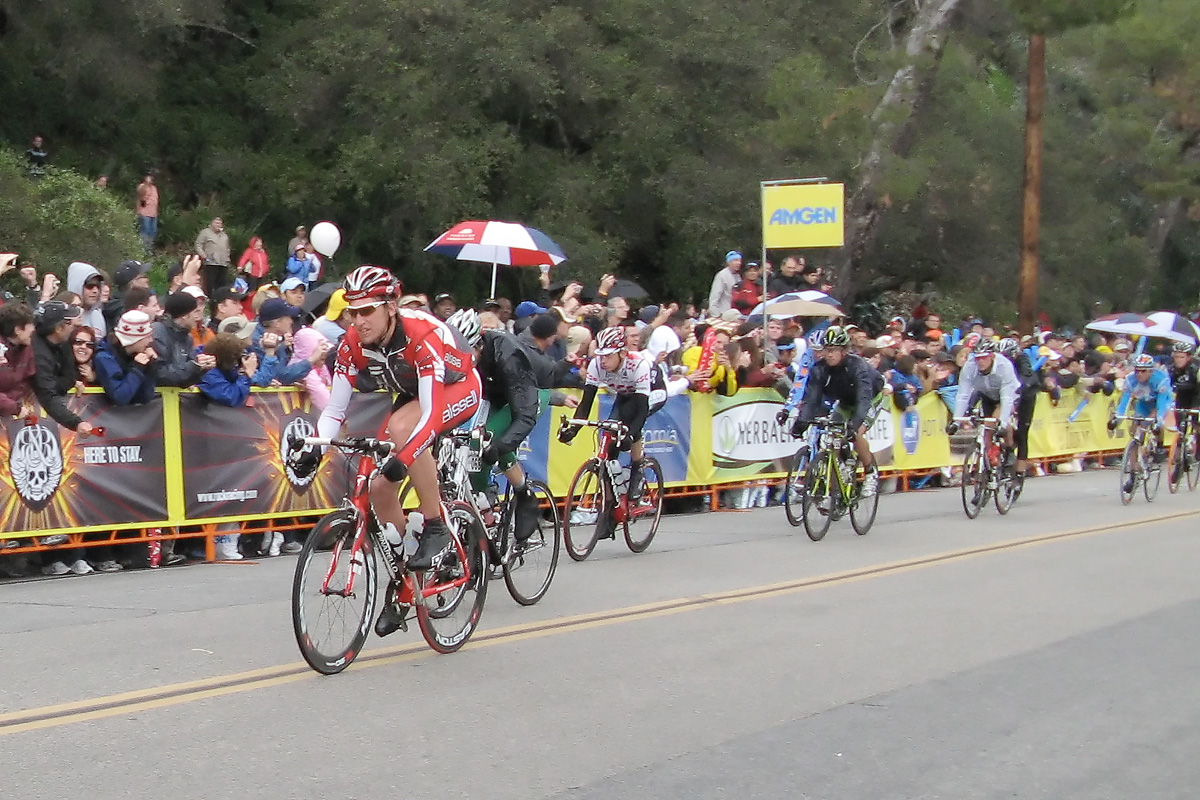 This is a later lap. See all the umbrellas? George Hincapie is on the left. Click on the image for a clearer view.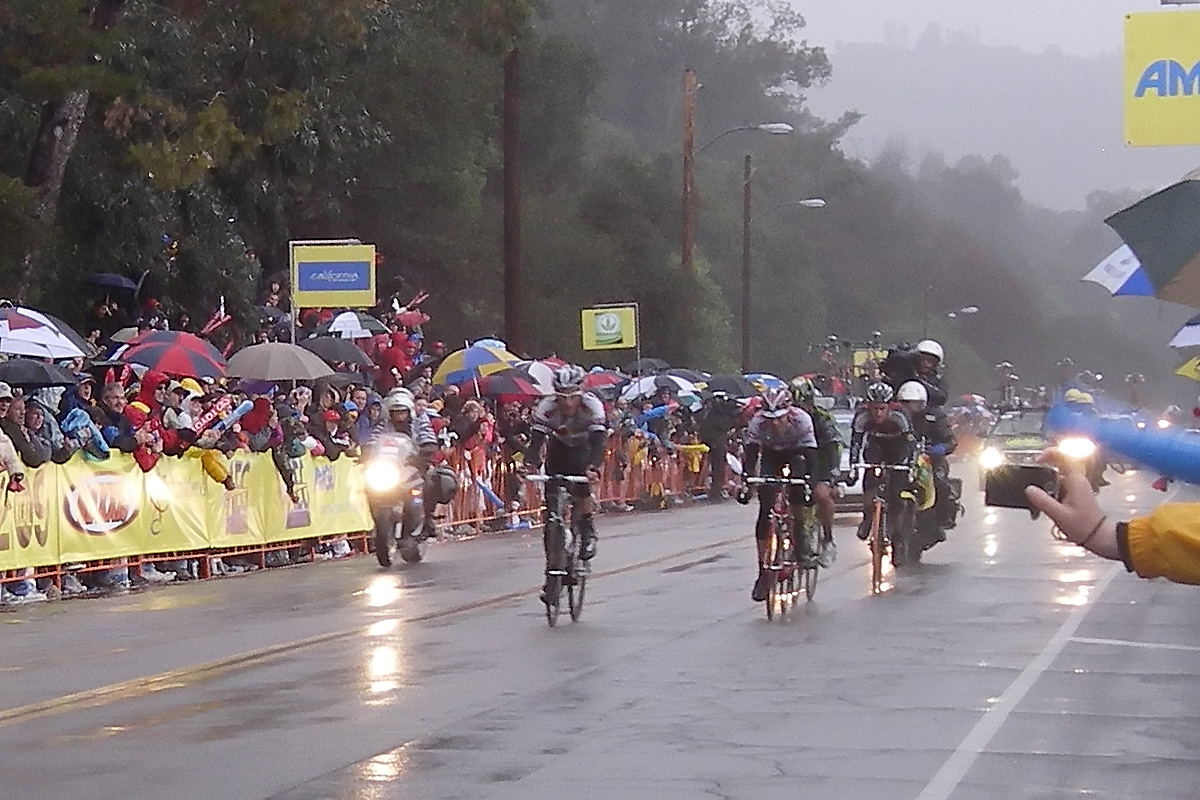 Rain would not daunt me from having front row standing space within the 100 foot marker to the finish line water. I was experiencing the Tour up close, but I could have used more people standing behind me for body heat! The camera was put away to protect it from the rain. Sigh. This means fewer pictures, but I could then enjoy the real time viewing of the race.
Information withdrawal was sweeping over me. Saturday I had the picture-in-picture of the Amgen
Tour Tracker
including the route map and gps locater map plus the tv coverage of Versus playing "live" about 10-20 minutes behind the Tour Tracker. Consider this nerd nirvana.
Having attended Stage 7 of the 2007 TOC in Long Beach with the circuit laps, it is amazing to watch the peloton hunt down and over take the break away riders. Today however, the weather conditions were very wet and slick. The front riders were no challenge to the overall classification. Tom Zirbel of Bissell did a wonderful job of being in the lead for over 15 miles. But Team High Road had to wipe out the embarrassment of Stage 6 and the
bidon pull
of their rider Mark Cavendish from their team car after a crash with Rock Racing riders including Mario Cipollini. The other break away riders overtook Tom Z. in the last lap and George Hincapie made the dash to the line. I can see his face in the split second and the blur of his Team High Road jersey of white and black in the rain. Just as the Tour finished the clouds parted and a perfect rainbow was seen. I had a line of sight as Levi stood on the grandstand to receive his accolades. Perfect Tour ending.
With two stages of the Tour of California attended, next on the event calendar is the CAS hearing for Floyd Landis. Then the
San Dimas Stage Race (SDSR)
March 28-30 with a 3.8 mile time trial up Glendora Moutain Road.
Don't let the Levi image fool you. I support Floyd more than any other athlete past, present or future.